The Road Safety Authority (RSA) together with the National Programme Office for Traffic Medicine, a joint initiative between the RSA and Royal College of Physicians of Ireland will launch a public consultation process for Group 2 licensed category drivers (bus and truck drivers) and their representative associations on Monday, 26 August 2013. This process, which will close on Monday, 30 September 2013, allows these individuals and associations to give feedback on the draft standards for Sláinte agus Tiomáint Medical Fitness to Drive Guidelines for Group 2, due to be published by the RSA in January 2014.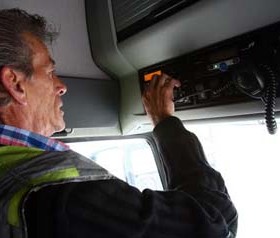 The guidelines for Group 2 drivers were preceded by guidelines for Group 1 drivers (car and motor cycle drivers) in Sláinte agus Tiomáint, published in January 2013. These guidelines will replace the existing guidelines for Group 2 drivers issued by the RSA in 2010 in Medical Aspects of Driver Licensing.
The 2014  Group 1 and Group 2 Guidelines are to be published as a single document that will be updated annually to guide doctors in their assessment of drivers with medical conditions which may affect their driving. The standards contained in the Guidelines are based on best practice and guide doctors on the standards set out in European Directives and regulations made in Ireland under the Road Traffic Acts.
All Group 2 drivers must submit a medical report with their application for a driving licence, whether a first time, renewal or exchange application. The vehicles in Group 2 are regarded as higher-risk vehicles which require a higher standard of physical and mental fitness on the part of the driver.
Group 2 category drivers are required to prove their fitness to drive at application or renewal or during their licence period, should their health deteriorate or change in a way that would impact on their ability to drive safely. The Road Safety Authority ask all drivers to self declare certain existing medical conditions when completing a driver licence application, renewal or exchange form. Group 2 drivers need to also submit a Medical Report (D501) with these forms, to be completed by their doctor with each application/renewal. The maximum licensing period for a Group 2 driver is for five years.
Professor Des O'Neill, Director, National Programme Office for Traffic Medicine said; "These guidelines will build on current best practice, and for most drivers will present little change.  However, they will also provide better guidance for the general public and the medical profession, as well as reassurance that the risk of crashes due to medical conditions will be minimised while preserving mobility to the greatest extent possible."
Mr. Michael Rowland, Acting CEO, Road Safety Authority said, "While many factors contribute to road safety, a driver's health is an important consideration. Medical standards for driver licensing are developed internationally to ensure that the driver's health status does not increase their crash risk. The aim of the guidelines is to maximise mobility in a way that is compatible with promoting road safety and ensuring medical fitness to drive."
For further information on Group 2 category drivers and on the consultation please log onto www.rsa.ie.