Seven out of then motorists (71 per cent) of motorists said they witness other drivers driving too fast every day, an AA Survey has found. The survey of over 16,300 people showed that excessive speed is an endemic habit among far too many Irish drivers.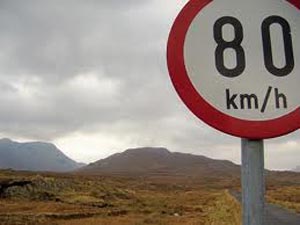 32 per cent of motorists admitted to doing it themselves. In a lot of cases respondents made individual comments about behaviours that they see every day and many were candid enough to admit that they have been guilty from time to time.
"I think we all accept that Irish drivers generally are a bit too lax about the rules of the road," says
says Faughnan. "But speed is the most lethal bad habit you can form. It makes a crash more likely and it makes the outcome more severe."
The survey also showed that men are more likely to drive faster than women. 35 per cent of males admitted to frequently driving at excessive speeds compared to 30 per cent of females.
2012 saw the lowest number of road deaths on record but 2013 is gearing up to be worse. So far this year there have been 128 road deaths which is a 9 per cent rise on the figure this time last year. August has been a bad month with 17 fatalities; this is 13 per cent of the total number of road fatalities so far in 2013.
Less tragically speeding is the cause of a lot of minor collisions and a lot of small insurance claims. In an ordinary traffic context pushing the speed up just a little bit makes it much more likely that a mistake will end in a shunt.
"Being involved in a crash can leave you really shaken. It is normal for people to be flustered and desperately want to get away from the scene. They often forget about important details and regret it afterwards," says Faughnan.