Fleetmatics, one of the leading global providers of fleet management solutions for small and medium-sized businesses, has developed a 'Driving Style' reporting feature to promote safe driving for its customers. According to figures from the Department of Transport, work related vehicle accidents cost companies between €16,000 and €154,000 annually. A Fleetmatics study also shows that aggressive driving can lower a vehicle's fuel economy by 33%.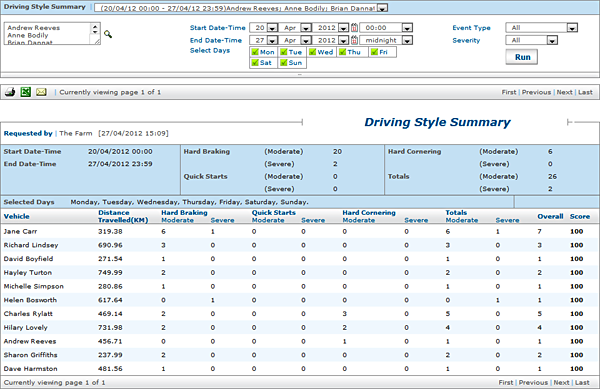 In an initiative to promote safe driving, Fleetmatics is sponsoring Safedriving.ie, an independent website, which is supported by the Road Safety Authority and An Garda Siochana.
The Fleetmatics 'Driving Style' reporting feature, using sensors calibrated to vehicles, enables management to identify driver shortcomings such as hard braking, quick starts and hard cornering. The driving style feature allows companies to measure, manage, and reduce aggressive driving either by vehicle or by a specific driver. As an added bonus, many companies now use GPS data to help lower insurance rates. Used as part of an overall safety program, companies have an opportunity to avail of lower insurance premium rates, adding to cost savings.
Derek Bryan, European Sales Director, Fleetmatics commented: "Promoting safe driving is important for Fleetmatics. Ensuring we deliver a whole fleet management solution to our customers is essential for our business to grow. The new 'Driving Style' feature reflects the great work of the research and development centre at our Dublin headquarters. In addition to promoting safe driving, Fleetmatics is delighted to sponsor the safedriving.ie website."
Additional features of 'Driving Style' include: A full picture of safety and risk; improved behaviour and reduced exposure; knowledge of your safest drivers; safety management over the long-term; and potentially lower insurance costs.