The Road Safety Authority (RSA) has held its fourth Annual Academic Road Safety Lecture, marking the first day of 'Irish Road Safety Week' which runs until Sunday 13 October. The theme of the lecture was 'Supporting Learner Drivers' and was attended by over 150 Approved Driving Instructors (ADIs) and road safety stakeholders.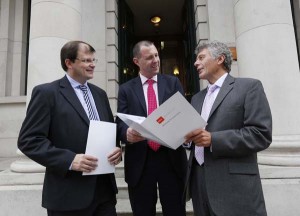 The sixth annual 'Irish Road Safety Week' is taking place nationwide this week. The RSA is urging people to get involved in the national drive to save lives as statistics show that road fatalities increased this year for the first time since 2005. To date this year, 148 people have been killed on Irish roads, an increase of 18 when compared to the same period last year. This week, road safety activities will take place around the country to promote the need to stay safe on the roads.  A full list of these activities is available on www.rsa.ie
Speakers at today's lecture included Mr Ian Edwards, Director of eDriving Solutions Ltd and Dr Charles Johnson, Technical Director of Competent Assurance Solutions in the UK. Mr Edwards' presentation looked at the coaching role of the driving instructor in the learning to drive process, and Dr Johnson focused on the psychology of learning to drive.
Speaking about 'Irish Road Safety Week', Minister for Transport, Tourism and Sport, Mr Leo Varadkar TD said: "'Irish Road Safety Week' is an opportunity for all of us to think about how we behave on the roads and how we can improve our safety. Sadly we have seen an increase in deaths on our roads so far this year. But if we have learned anything from the past few years, it's that all of us can make real changes to improve safety. So this week, consider what you can do to make our roads safer. Get involved in what's happening in your county and together we can help to save lives."
Speaking at the lecture, Mr Michael Rowland, Director of Road Safety Research and Driver Education said: "The purpose of today's lecture is to bring together Approved Driving Instructors (ADIs) and road safety stakeholders to learn from international experience of how learner drivers are coached.  Learner drivers are among the most vulnerable road-users on our roads, simply because they don't yet have the necessary skills, experience and confidence. ADIs play a significant role in shaping attitudes to road safety among learner drivers, so it's important that we continuously look at ways to develop this role."
Dr Charles Johnson, who presented at the lecture, said: "It is becoming widely accepted that ADIs need to be coaches as much or more than they need to be instructors. There is also plenty of evidence that coaching can add significant value to the learning process.  However, when coaching fails to work it can cause a great deal of harm. This lecture, therefore, considers what makes coaching different, what it should be focused on, how this impacts on being an ADI and what are the dangers and pitfalls that need to be avoided."
Attendees at today's lecture also heard from Mr Ian Edwards, Director of eDriving Solutions Ltd. In his presentation, 'Independent Driver, Independent Learner', Mr Edwards emphasised the importance of the relationship between the learner driver and the driving instructor ('the coach') and referenced the EU HERMES Project that explored coaching and communication skills for driving instructors.
"Today's lecture will help driving instructors to develop their knowledge on a wide range of issues associated with the crash involvement of newly qualified drivers.  This will be linked to how these crash causation factors can be addressed within driver education through the adoption of a more coaching based approach," said Mr Edwards.