Beep Beep Day, a road safety awareness day for children, with 20,254 children taking part in 1,473 pre-schools around the country takes place this Friday.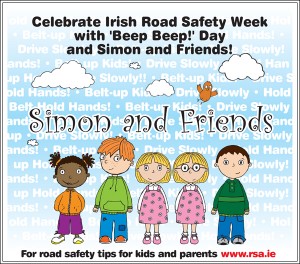 The Road Safety Authority (RSA) has sent road safety packs to all pre-schools taking part in 'Beep Beep Day!' Children aged 5 and under will practice basic road safety messages with the 'Simon and Friends' road safety storybooks, songs, games and activities.
Each child will also receive a high vis vest in their pack. Information regarding child safety in cars is also being distributed to parents. This event is coordinated nationally by the RSA and organised locally by the County and City Childcare Committees.