The Road Safety Authority (RSA) is calling for entries to its annual 'Leading Lights in Road Safety' Awards. Now in its sixth year, the awards recognise and honour the contribution made by people nationwide to reducing deaths and serious injuries on our roads. Details of how to enter the 'Leading Lights in Road Safety' Awards are available on www.rsa.ie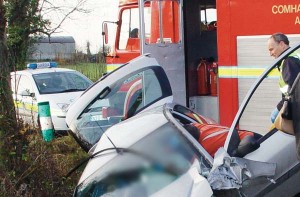 Announcing the call for entries, Mr Gay Byrne, Chairman, Road Safety Authority said: "Over the past few years, the judging panel and I have had the pleasure of reviewing the entries sent in from all over the country to our annual 'Leading Lights in Road Safety' Awards. And every year, we have the same problem – how to pick just one winner. Because the truth is, every entry deserves to be recognised for the efforts made to keep our roads safe."
"These extraordinary people around the country do this, not for themselves, but for their communities, their students, their colleagues and their friends, so that we all can share the benefits of safer roads. So if you know someone that has made an extraordinary effort to promote road safety, or if you are one of those people, enter this year's 'Leading Lights in Road Safety' Awards so that we can honour the great work that you do."
Awards will be presented to businesses, educational institutes, media, community groups, and public services who have demonstrated a commitment to keeping the roads free from tragedy. Entries will be accepted in each of the following categories:
· Road Safety Officer of the Year
· Public Sector (Local Authorities etc)
· Emergency Services (new entry) (Fire Services, Gardaí, Paramedics)
· Local Media Award
· National Media Award
· Business Category
· Education Award
o Pre-primary
o Primary School Education
o Secondary School Education
o Special School Education (new entry)
o Third Level Education
o Community Education
· Approved Driving Instructor (ADI) of the Year (Car, Motorcycle, Bus and Truck)
· CPC Trainer of the Year
· CPC Training Organisation of the Year
· Supreme Award
One of the category award winners will be chosen by the panel to receive the Supreme Award. This will be presented to an individual or group that has demonstrated the most innovative and creative initiative to promote safer road use. The winner of the Supreme Award will be announced at the awards ceremony in Farmleigh House, Phoenix Park on Wednesday 11 December 2013.
The judging panel for the 'Leading Lights in Road Safety' Awards will be announced shortly. Entries to this year's awards are currently being accepted and the closing date for entries is Friday 15 November at 5pm.
Further information on the criteria for submitting an award, the categories for this year's awards and how to submit an entry for this year's 'Leading Lights in Road Safety' are available at www.rsa.ie/leadinglights.