Leading tyre manufacturer Michelin has won three Peer Awards for the Company's outstanding work highlighting road safety in the community. Michelin was awarded the Education of the Community, Corporate Responsibility and Innovation Awards at a lavish ceremony in London last week.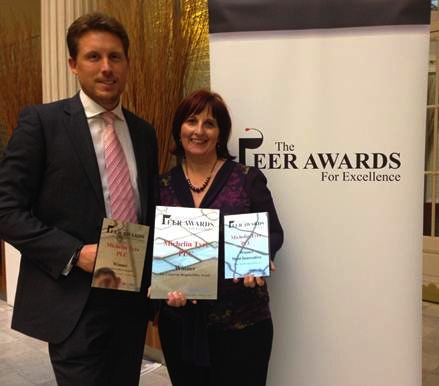 The 2014 Peer Awards for Excellence are now in their fourth year and celebrate innovation in the areas of Corporate Responsibility, Customer Engagement and People and Performance.
Unusually, award winners are voted for and chosen by other companies in a bid to inspire participants and encourage interaction and co-operation between entrants. Michelin was the only company to take home three awards.
Michelin entered the Corporate Responsibility category and was deemed overall winner, also taking home the Education of the Community Award for its work highlighting road safety in the communities of Stoke, Ballymena and Dundee, in which Michelin operates. Finally, Michelin was also awarded the Innovation Award thanks to its unique approach to road safety.
Over the past year, Michelin has taken part in a number of activities to engage young people on the subject of safer driving, working with partners such as Arval, Staffordshire Safer Roads Partnership and The Puppet Broadcasting Company, to drive the message of road safety home to those who may be about to take to the wheel. These activities include a tour of local colleges and schools with a driving simulator, a series of entertaining and informative puppet shows, as well as a partnership with software company A2OM to roll out DriveiQ software to educate young drivers online about the dangers of the roads.
Darren Lindsey, head of government and public affairs, Michelin, commented: "We are incredibly excited to have been awarded three Peer Awards this year. The calibre of entrants was very high and to have been voted category winner of the overall Corporate Responsibility award is testament to how hard we have worked to educate young people in the local community. We will carry on working with our partners to continue our outreach, highlighting the importance of safe tyres, vehicles and driving habits to young drivers."
More information about winners can be found at http://thepeerawards.com/2013-finalists