The Speed Limits Working Group has published its recommendations to reform the speed limit system and ensure that every speed limit in Ireland is both safe and sensible.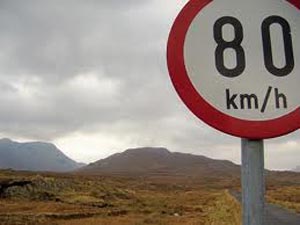 It recommends a new appeals mechanism for inconsistent speed limits, the removal of misleading 80kmh speed limits on narrow country roads, and the end of 'silly signs' in inappropriate locations. Every speed limit in the country will be audited every five years by the National Roads Authority or the local authority, and speed limit guidelines will become binding. The goal is to ensure that the speed limit on any given road is a fair reflection of the road conditions.
The Working Group was set up by Minister Varadkar and asked to address inconsistencies in Ireland's speed limits, which can vary significantly between roads and counties, and even on the same stretch of road. It was also asked to find the most appropriate speed limit for country lanes, which currently have a default limit of 80kmh, regardless of road condition.
"I set up this Working Group to ensure that speed restrictions everywhere are both safe and sensible. Everyone has come across speed limits which are either too high or too low, and which don't seem to make sense," Minister Varadkar said.
"This detailed report sets out a new approach, and the Department will now work with the NRA, local authorities, the Gardaí, and the AA to implement its recommendations. I also want to thank the Working Group for producing such a comprehensive study. If people are going to respect speed limits, then we need to ensure that speed limits respect the motorist. But we must also ensure that every limit is safe and sensible."
Conor Faughnan of the AA said: "Irish Motorists have been hugely supportive of road safety policy in recent years. AA members are continually telling us that they support speed enforcement but that many speed limits across the country are set incorrectly. The updated policy announced today is a huge step forward in addressing those anomalies. It will allow for a consistent and rational approach across the entire network which is very necessary and very welcome."