A new qualitative study on driver distraction, conducted by the Road Safety Authority (RSA), has revealed that mobile phones and children are the biggest distractions to a driver. The results of the study were presented at the RSA's Annual International Road Safety Conference which took place at Dublin Castle today, Thursday 20 March 2014 and focused on the issue of Driver Distraction.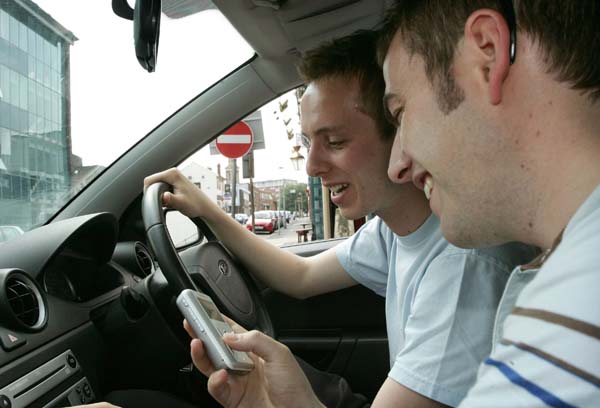 The study was conducted over an 18 day period with 30 drivers of all ages and experience who shared their views, opinions and experiences of being distracted at the wheel. The participants committed to eliminating distractions behind the wheel, such as using their mobile phone, listening to the radio, eating or drinking for a period of seven days and shared their experiences through video diary blogs and discussion forums.
The study highlighted how busy, modern lifestyles are cited as a reason for using a mobile phone while driving, and in particular, how drivers feel that external pressures leave them with no option but to use their phone when driving. Men and women rationalise their behaviour in different ways, with men citing work, particularly self-employment, and women citing busy schedules and being available in emergency situations as a reason to use their phone while driving. The research also found that the most effective way to change a driver's behaviour is to understand the lifestyle pressures drivers are exposed to, in order to help reduce the problem of driver distraction and offer practical coping strategies to manage potential distractions while driving, ranging from how best to plan for trips with children, to how best manage the demands of mobile phones, and smartphones in particular, when setting out on a journey.
Speaking at the conference, Minister for Transport, Tourism and Sport, Mr Leo Varadkar TD said:
"This conference is an important step in raising awareness about the dangers of driver distraction. The discussions today show just how easy it is to be distracted while driving. We live in a plugged-in world where we are expected to be in constant contact, even in the car. But the reality is that when we are driving, our attention should only be focused on driving safely. Later this year, penalty points for using a mobile phone while driving will increase from two to three points. As road-users, we have a responsibility to ourselves, our passengers and other road-users to keep our attention on the road, so I would encourage all road-users to switch off before you drive off."
Mr Gay Byrne, Chairman, RSA welcomed delegates to the conference: "In the past, the biggest killers on our roads were drink-driving and speeding. And although these continue to be a significant problem, we are now faced with other killer behaviours as a result of the technology-driven world we live in. People may not think that using a mobile phone, or texting, or even eating and drinking behind the wheel of the car is a problem, but research tells us that the distraction caused by using a mobile phone while driving is comparable to driving drunk."
"Driver distraction plays a role in 20-30% of all road collisions. This means that last year, as many as 11,274 collisions could have been caused by driver distraction – and many of these may have had serious or tragic consequences. The message here is simple – when you're behind the wheel of a car, your only focus should be your driving."