The Road Safety Authority (RSA) and An Garda Síochána are urging motorcyclists, scooter and moped users to bike safely on the roads this summer following an almost 70% rise in motorcycle rider fatalities (up from 16 to 27) in 2013. To date, 2 motorcyclists have died on Irish roads in 2014.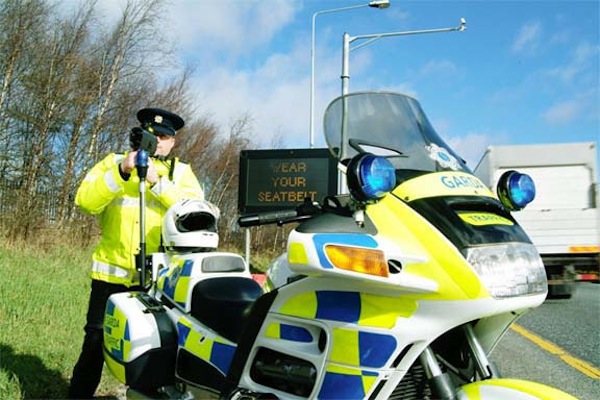 The appeal is being made ahead of the May Bank Holiday Weekend as both the RSA, and An Garda Síochána are extremely concerned that the high casualty rate among motorcyclists could be repeated this summer. There were almost as many motorcyclists as pedestrians killed in 2013, a trend not previously observed, as pedestrian fatalities have typically been significantly higher than motorcyclist fatalities to date. The RSA and An Garda Síochána are asking motorcycle riders to be aware of their vulnerability on the roads as research shows that motorcyclists are three times more likely to be killed on Irish roads than in any other EU country.
A provisional analysis of motorcycle deaths last year by the RSA & An Garda Síochána shows that there were four main factors behind these deaths:
1.         A motorcyclist overtaking a vehicle turning right, resulting in the motorcyclist colliding with the side of the turning vehicle
2.         A motorcyclist, while overtaking, colliding head on with an oncoming vehicle
3.         A motorcyclist losing control while cornering and crossing into the path of an oncoming vehicle or colliding with a pole, or wall on the other side of the road
4.         A driver failing to see a motorcyclist when turning, driving through a junction or joining a main road from a minor road and colliding with the motorcyclist.
A collision with a car ahead turning right was a particular problem resulting in nine fatalities alone last year. The vast majority of motorcycle fatalities last year took place in the Dublin and greater Dublin area (Counties Dublin, Meath, Kildare and Wicklow).
In 16 of 22 fatalities, (where the addresses were recorded) the motorcyclist was familiar with the local area. Also, in the majority of cases the weather was dry, the road surface was also dry, and the conditions were daylight with good visibility.
Advising road users ahead of the bank holiday Mr Leo Varadkar T.D., Minister for Transport, Tourism and Sport said, "Riding a motorbike can be an incredible experience and it gives a great sense of freedom. But motorcyclists are also among the most vulnerable road users. Going full throttle represents a danger to others, and above all to your self. Your attitude is absolutely critical in determining the likelihood of having a crash, so be bike safe this summer. Drivers also have a responsibility to always look out for motorcycles, and all motorists should look once for cars and twice for bikes".
Advising motorists and motorcyclists Mr. Michael Rowland, Director, Road Safety Authority said, "As drivers we need to pay more attention and be constantly on the lookout for motorcyclists, in our blind spots at junctions and especially when turning right. Motorcyclists should be extremely careful when overtaking and when taking bends. While mandatory lessons are now required for anyone learning to ride a bike nowadays, there are many who have never received any training. They've learned to ride from the 'fall off your horse, just get back up on it again' school of learning. Regardless of your experience, or how long you have been biking, I would urge anyone who has never received any formal motorcycle training to do so with one of the many Approved Motorcycle Riding Instructors around the country. A list can be found on rsa.ie."
Assistant Commissioner John Twomey, Garda National Traffic Bureau said:- "There are a couple of things to get right from the start, to ensure your safety on two wheels. Firstly make yourself as visible as possible by always wearing high-viz clothing and ride with your dipped headlight on. Secondly always wear appropriate personal protection equipment, and thirdly always ride with restraint – motorcycles are powerful machines capable of accelerating very quickly. In a split second however things can go wrong, so always be in a position to reduce speed or change path if it does. Our forensic collision investigators have identified several repeated crash scenarios – please take heed of them before you make your move on the road. Riding a motorcycle is a most enjoyable experience – but it's also one that carries huge risk. Reduce the risk – do it right"
Commenting on last week's two day targeted mobile phone operation Assistant Commissioner Twomey continued:- "This operation got huge take up in the media, so I'd like to thank those that heeded the safety message we sent out. Disappointingly though, over the two days, 1191 drivers were found holding a mobile phone whilst driving, effectively causing a risk for you and I on the road. This is approximately 6 times more than is normally detected. An Garda Síochána will continue to target this "lifesaver" offence, which will now be strengthened by additional legislation which is being introduced on the 1st May 2014 in relation to reading or sending a text from a mobile phone."